Our gracious hosts, Lady Constance (with their older son, Aidan) ...




... and Lord Edmund (holding their younger son, Ian)



Fighters will use anything for a weapon, even wooden spoons!




Colleen shows off her new outfit




Davyd and Lillian made it up to Seoul from Osan



Brian and Reginald clowning with Aidan



Constance and Fernando


"Is he ever going to take that picture?"

"Shut up and keep smiling."


Fernando, Constance, Brian and Shajhar

All good parties wind up in the kitchen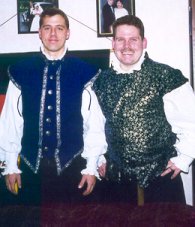 A scene from the less popular Shakespeare comedy: "Two Gentlemen of Korea"


Brian, Shajhar, Cristyne, Morgan and Wei




Ninja Elizabethans



Rogue in training

Morgan spinning a tale

(Oh, yeah, she's definitely a bard)



So, what's the Weather Channel say now?
The following pictures weren't from the Twelfth Night Revel (they're actually of the Thanksgiving dinner the Morleys hosted earlier), but they were in the same batch of pictures.



What a charmer


Dave and Dave

(Actually, Davyd and Korimitsu, but it was more fun to use their mundane names)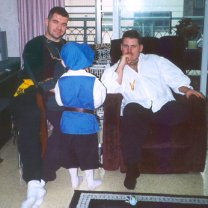 What do you want, Aidan?