Fionndaire and Lamya, Lars and Lois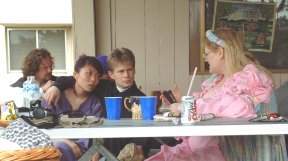 Howard, Genie and Simon, Alyssa


Johan, Benika, Kathrine, Leukardis, Saavik



Benika and Johan



Lady Kirstin defends herself against Fionndaire




Have at you, Travis!



Victor by death, Fionndaire!




Travis and Kirstin face off



(Insert favorite Monty Python quote here)



Lord Wei presses against Lord Segan's able defenses




Fionndaire and Kirstin prepare to cross blades




Howard falls to Wei after a heated dagger duel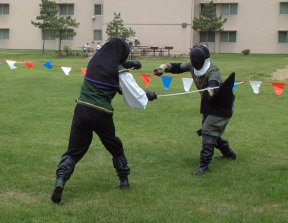 Kirstin gears up two new fencers




A dashing cadre!




Segan and Wei tape on a dagger tip
Howard awaiting his next
victim - er - opponent
THLady Morgan -
List Mistress extraordinaire

Leukardis, our beloved Seneschal

I don't even want to know



Enjoying feast:
Lars, Fionndaire, Lamya, Johan, Benika, Lois, ...



... Wei, Ruben, David, Travis, Ender, Saavik ...



... Kirstin, Kathrine, Vincent, Lyse, Moradain, Felicia ...



... Simon, Genie, Leukardis, Alyssa ...



... and Segan

^_^