Her Excellency Baroness Morgan finishing up a few scrolls before the event


Her Majesty playing checkers with Aleksandra

(Yes, I know they're chess pieces, but trust me)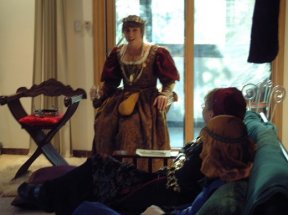 While Her Majesty tells tales of mainland SCA, ...




... His Majesty gives a few fighting tips




Lady Cristyne, our feastocrat

"Feast will be ready when *I* say it's ready!"




The thrones before court



His Excellency Baron Wei opens court with a few pithy remarks



The Seneschal, Lord Johann, presents Their Majesties with a gift basket from the Stronghold




Aleksandra receives an AoA ...





... and a Rose Leaf for her work in illumination




Cristyne receives a Burdened Bouget for her devoted efforts to the Barony




She also is awarded a Rose Leaf and Leaf of Merit

Don't cry, Cristyne. You'll get me started!





Baron Wei receives an AoA for his support of the Barony



Baroness Morgan gives Kathrine a necklace to thank her for letting a crowd of SCA'ers invade her home