During a lull, Lord Trahern gets a shoulder rub from Katri




Talking art over an Attic Helm scroll


Trahern awaits his first opponent on the field



One down ...

Lord Fernando and Trahern face off

Katri heralded, Shajhar ran the list, and Lady Sara marshaled



What? Another double kill?!




WHAM BAM !!



Andrew and Lord Edmund prepare to cross blades


Double kill!



Lady Constance looks a little worried as Ron turns the meat for feast




But, as you can see, feast came out great



Everyone enjoying the food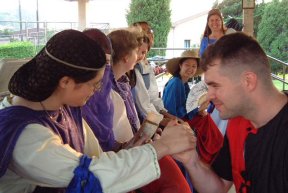 Fernando shmoozing on Sara during the hand kissing contest

Just the hand, Fernando!



Hey, who's supposed to be watching Ian?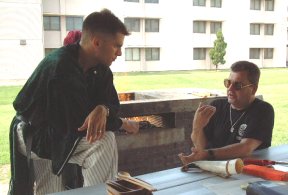 Wei and Ron talking shop




Lord Johann and Andrew take a break



Kathrine and Vincent






Johann and his cool banner