Fighter Practice - March 2007
During St. Patrick's Day, the Stronghold held a quick fighter practice. Sadly, because of military duties, many folks were just unable to attend. Lord Cynan and Lord Fadi did have a good time without all the rest there though.




Lord Cynan and Lord Fadi face off.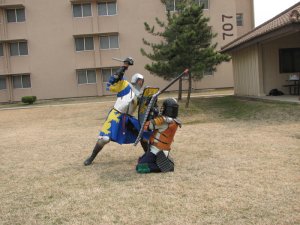 Lord Cynan imitates an Eskimo Seal Hunter to Lord Fadi's chagrin.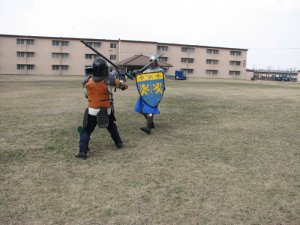 Sizing each other up.


Just a great action shot.

These pages only represent our local group and do not speak for the SCA, Inc. as a whole.
Any problems or questions concerning this website please contact the Web Minister, Larian LeQuella (Jan Stephan Lundquist) at Larian@LarianLeQuella.com-NoSpam (and backspace over the "-NoSpam" part of the email address).
Last updated this 1st day of January, AS XLII, being 2007 Gregorian.
Graphics by
Graphica Medii Aevi
and
Clipart Castle
.