While Crispin, Baroness Morgan and Saavik get ready for the day, Brant and Lady Kathryne enjoy a peaceful moment


The day's activities started with a rapier tourney

Lord Wei dodges Crispin's attack


Phtuule and Lord Moradain exchange parries

Moradain was the winner of the day on the eric



My money's on the guy in the green doublet



Wei, Crispin, Moradain and Phtuule



The populace watching the fights



Moradain and THLord Anthun charge each other in the heavy weapons tournament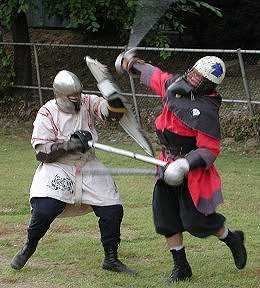 Baron Sir Vebrand and Anthun shower a barrage of blows on each other



Phtuule and Moradain after taking each other's legs


Phtuule hides from Vebrand behind his shield

Vebrand proved victorious when the dust had cleared





Morgan heralding the tourneys




Some fighters were up for pick-up fights...



... but Phtuule was too wiped out for any more



Vebrand shows Brant some sword techniques




Crispin gives a rapier lesson to two new comers


Meanwhile, Jonathon helps his mom, Kathryne, prepare the feast

Seaghnait, what are you doing with that knife?


I dunno, Crispin, what d'you wanna do?
Everyone enjoying the feast - Yummy!



Benika and Lady Seaghnait finishing up some award scrolls





Benika drew up and awarded "New Bee" awards for those participating in various SCA activities for the first time


She even made little beaded wire bees as tokens

Cool!



John Tallow's Cannon was but one of the many dances enjoyed that night




This was either full-contact Hole in the Wall, or people diving away from the camera




You'd almost think they were back in Gleann Abhann





Lady Caitlyn retrieves her pillow from Phtuule's villainous clutches



An exhausted
Feast-o-crat





Vebrand getting silly while washing dishes in the kitchen




Jonathon caught playing a video game

But it's "Hamtaro's Castle", and castles are period, so it's ok