Larian LaQuella - Larian served the Stronghold well as both our Seneschal and Web Minister.

Larian was always a great group leader and friend whose time here has left an impression on us all.



Alen - Though mostly quiet and in the background he was always a willing audiance for the more rowdy in the group and for that we miss him




Alice - Little Red Riding Hood is back in her native England and we miss her accent



Alyssa - artist, singer, entertainer, her infectious good chear is missed by all. She is now living in Canada




Ambrose - fighter, bard, organizer, artist. He always found yet another way to astound us



Ari - He came here as a baby but now he is a little fighter already




Bang Bang - usualy somewhere in the background, but his Korean insights are missed. Now studying in Texas



Caitlyn - Thought it was often tuff for her to come join us she always found a way to come enliven our events




Catya - She got us all dancing, but will be mostly remembered for making us smile



Elezar - Our jewish Viking, who taught all on the fighting field and amused all at the feast table




Eliana - The elegant viking lady with the ready smile



Fathier - Our beloved senechal, there is no way I could tell all he did in only a sentence




Fernando - setting ladies blushing and hearts fluttering, our endearing rogue



Guinevere - from the moment she started there is nothing she was not willing to attempt and usually succeed at.




Jin - Always willing to help in the kitchen or where-ever required. She is now looking after her new family



Kareena - Dispite claiming lack of skill she soon were leading us in painting and sewing




Keith - Our hero - he valiently kept all the girls warm next to the fighting field



Lars Magnus - this is how he would like to be remember . always looking for the next fight




Say Hee - Always there to add beauty and elegance to any event.



Seamus - We always knew we would be eating well when he was in the area




Segnat - Arts and Sciences champion and stalwat



Stephen Kelly-The irishman that charmed us all with that twinkle in his eye and his great singing




Theoric and Erlinda - The charming pirate and his enchanting lady



Tustin - The blue-eyed charmer who still try to claim he is only a stickjock




Yohee - Her shy smile lit up the few events that she shared with us



THLord Anthun, our transplanted Huscarl, is now enjoying Meridian hospitality




Baron Sir Vebrand offered sage martial wisdom to any who wished to learn

He and his family are now trying on An Tir for size




Brant and Saavik, our Exchequer, left our chilly Warriors Gate winters for the muggy summers of Gleann Abhann



Ender was our Stronghold Seneschal before flying out for the Outlands

(Yes, I know he's not in garb, but it was such a nice picture...)





Lord Moradain, our Marshal and local "Captain Jack", stopped off in Meridies for a few months before heading on to Drachenwald




Lady Lyse, known for her tablet weaving, and Lord Segan, our Rapier Marshal, are living La Dolce Vita in Italy


Leukardis was a budding calligrapher and illuminator when she returned to her home in the Shire of Adamastor in Drachenwald



Dan, our linguist and interpreter, moved on to Ansteorra

He was invaluable to those of us who hadn't gotten past "Kamsamnida"





Jambres, our Hospitaller and "Animal Girl", is now enjoying beer and brats in Drachenwald



Ethan was a fighter, leather worker, and connoisseur of style

He left us to go back home to Meridies
Lady Kathryn and Vincent graciously let us invade their home for meetings every other weekend

They are now settled down in Ansteorra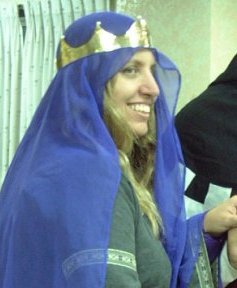 Lady (then Baroness) Kirstin isn't really an Empty Shell, since she didn't leave the Barony, but she left Warriors Gate for the warm seas of World's Edge





Jamilla had fun with us before returning to her friends and family in AnTir



Raefon, ever the stick jock, was our local Marshal

He went home to Meridies and a very happy reunion with his wife




Fionndaire was our Herald and an all around good fellow

He is back home with his lovely wife in the Outlands




Shajhar, our List Herald, and Brian, our Historian, have moved on to Drachenwald




Simon and his girlfriend, Genie

Simon was a major contributor to the Stronghold's fencing activity




Travis shows off his spiffy new leather doublet

He's now at home with his family in Ansteorra

Lady Cristyne was known for her cooking and her sense of humor (not necessarily in that order)

She and her husband Brandon are now playing in Meridies on the border of Trimaris


Lady Constance, Lord Edmund, and their sons, Aidan and Ian, are now in Drachenwald

The Morleys were the backbone of the Stronghold for many years

Lady Yael heralds her first Royal Court

She is now home in Atlantia




Andrew was one of our premier fencers

He was last heard from while backpacking across Europe




Lady Aleksandra got her first taste of illumination here, and designed several Baronial scrolls before she went home to An Tir




Lord Johann served as Seneschal and was one of our heavy weapons fighters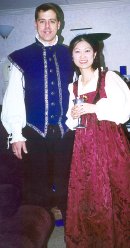 Davyd and Lady Lillian were both tireless contributors to the Stronghold

They are now enjoying the sunny skies of Trimaris


Lord Fionn was always ready to pitch in where he was needed

Especially if it was a lady asking


Lord Fernando was the quintessential charmer and gentleman-rogue

He's now home with his family in Meridies



Angus was always ready and willing with his tarot cards, for any who wanted a reading


This may not be the best picture of Lord Trahern, but it was the only one we had of him without his armour on

That about sums up Trahern


Korimitsu was our token Nihon-jin persona

He is now living in An Tir



Maria discovered the SCA here in Korea, and she dove right in


Colleen was our local wench - and darned proud of it!

She and her daughter are now in Meridies



Reginald fondles his "booby mug" (the handle is a bare-chested mermaid)




Dellamore, the Swamp Rat, showing his softer side



Lord Markus served as Marshal and taught many in heavy weapons